Fundraising
Academy Giving
Archway Trivium asks every family in the community to participate in our two annual fundraising campaigns.  The Community Investment Campaign supports our academic model in the classroom and the Tax Credit Drive supports our extracurricular programs.  Together these two efforts are vital to the health of the school and our ability to provide a full and enriching education to every student.  For giving inquiries, please contact our Family Giving and Community Engagement Officer.
For more information, please visit our Archway Trivium Support page.
---
Passive Fundraising
The PSO organizes, promotes, and manages various merchant partnerships that allow us to receive a percentage of the amount you spend on certain products or at various stores. Easy to do and easy to start! One simple click away in helping the PSO support classrooms, clubs, and other activities with the rewards we receive from what you normally do and use every day!
Amazon
Shop Amazon and support Archway Trivium West at the same time! Just make your regular Amazon purchases through the web address below and Archway Trivium West receives 4% to 8.5% of the profits!
To benefit Archway Trivium West, please visit:
Save this link to your favorites and use it each time you shop on Amazon!
The Amazon program includes the AmazonSmile program. This means Amazon will donate an additional 0.5% of the price of your eligible AmazonSmile purchase to Archway Trivium West. When you login for the first time please select Archway Classical Academy Trivium.
If you have any questions regarding the Amazon program or how to get started, please contact our PSO Treasurer.
Label Daddy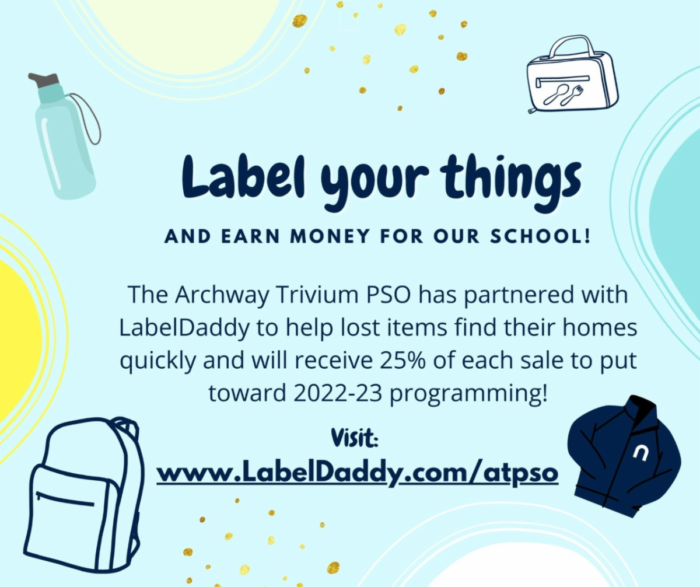 The PSO has partnered with LabelDaddy to give our school community a solution for all those lost jackets and water bottles! LabelDaddy offers high quality vinyl name labels that are ultra durable and washable (both laundry and dishwasher!). Shop using our link and LabelDaddy will donate 25% of each purchase back to our school. Share our link with friends and family!
Box Tops 4 Education
Box Tops for Education has NEW and improved mobile app which allows you to scan your store receipts to find participating products and instantly add Box Tops to our school's earnings online! Traditional Box Tops clips are being phased out, but you can still clip these and send them to school. Please make sure each clip has a valid expiration date.
Download the Box Tops Mobile App Here
Fry's Community Reward Program
Fry's Grocery Stores has a rewards program to help schools. All you have to do is register your Fry's VIP card online and link it to Archway Trivium West. Every three months Fry's will distribute up to $500,000 to participating organizations. How much we earn depends on how many people link their Fry's VIP card to Archway Trivium West.
Please enroll NOW in the Fry's Community Rewards program and support Archway Trivium West!
Instructions are below. If you already have an online Fry's Rewards account, you are halfway there. Thank you for supporting Archway Trivium West!
STEP 1: Creating an Online Fry's Account
NOTE: If you already have an online Fry's account, skip to Step 2.
Go to http://www.frysfood.com/
Select 'Register'.
Under Sign-In information, enter your email and create a password. (Write down your email & password—will need it in step 2)
Select 'Use Card Number'.
Enter your Fry's V.I.P Card Number, last name and postal code.
Under 'Select Your Preferred Store' enter your postal code.
Select 'Find Stores'.
Choose your store then select 'Create Account'.
You will then be prompted to check your email for a confirmation email. Click the hyperlink in your email to finish creating your Online Fry's Account.
Continue to step #2 to register for the Fry's Community Rewards Program of your choice.
STEP 2: Register for the Fry's Community Rewards Program
Select 'Sign-In'.
Enter your email and password then select 'sign in'. (This will be the email
and password you created in step 1)
Select 'My Account then select 'Account Settings' from drop down menu.
Click 'edit' under Community Rewards. If prompted, enter personal information.
Under Find Your Organization: Archway Trivium West # 96116
Under Select Your Organization: Select box next to your organization
Then select 'save changes'.
If you have registered correctly, you should now see your organization information listed under 'Community Rewards' on your Account Summary page.