PSO Copy Program
November 29, 2022 -
Copy That! Trivium Parents Help Keep Things Running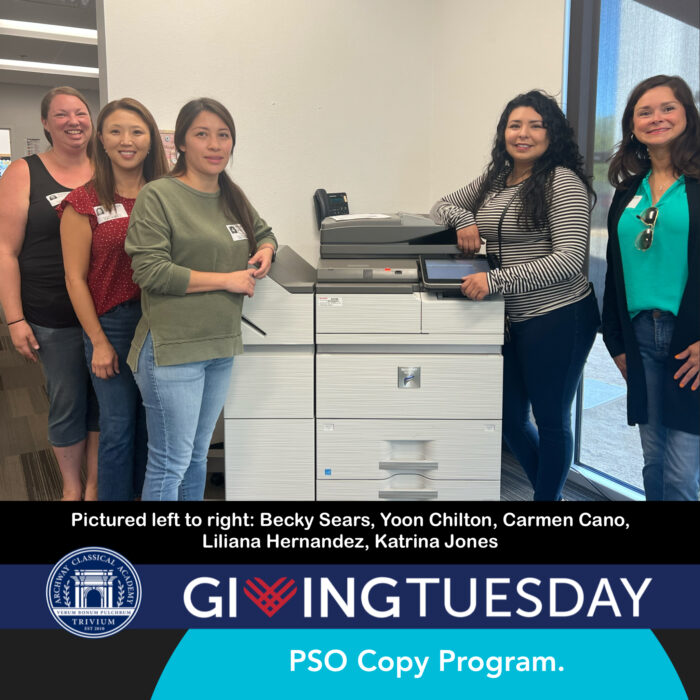 Last year, we had 18 Archway Trivium classrooms needing copies for about 540 scholars. This year, that increased to 30 classrooms serving about 900 scholars. Even with the addition of a second copy room, the demand on teacher time and access to copiers started to take a toll earlier this fall. On average, the school currently runs through 15 cases of paper (that's 5,000 sheets of paper per case) per week at an expense of about $50 per case. That's double our paper demand from last year in addition to inflation accounting for about a $10 per case price increase. While many public schools use a portion of their state funding to employ a copy center staff to make photocopies for their teachers, we do not have the resources to dedicate to such a service. As a charter school, we already receive less funding than the public schools to cover all the operational expenses. This funding gap is one of the reasons we ask our families to help support the school through Community Investment giving. Additionally, we rely on our parent volunteers! When our parents were alerted to a specific challenge for our teachers, our Parent Service Organization (PSO) was able to galvanize a dedicated group of parents who eagerly jumped at the chance to fill the need. Veteran volunteer, Becky Sears, quickly stepped in to lead and organize this particular group of parent volunteers.
"In years past, both the Archway Trivium East and West campuses had copy programs fueled by the parent community. The idea was a simple one: to show the teachers and staff our appreciation by helping to make their days run a bit more smoothly. Once our campuses joined together to form one Trivium community this fall, it only made sense to begin a new copy program, one that could merge our two parent communities with a common goal of assisting the teachers, staff and scholars. The Copy Program ensures that our teachers now have some extra space in their insanely busy schedules to prepare lessons for their classrooms and spend time with their scholars. This is just one of many ways we can come together as a parent community to support Archway Trivium as a whole. While the act of making photocopies, laminating activities, and stapling leveled readers may seem like menial tasks, it means so much more than that. It is a way for us grow as a community and show our gratitude to the school for cultivating the hearts, minds, and bodies of our beloved children."  – Becky Sears
The PSO Copy Program is just one example of the amazing ways in which our Trivium community steps up to support the school. It's our volunteers and donors that make a difference to keep things running! We greatly appreciate you!